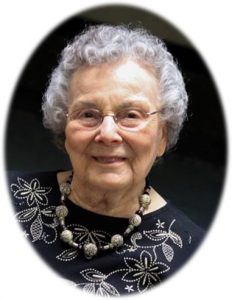 Wilma F. McDowell
March 20, 1924 – September 13, 2019
Age 95
Wilma F. McDowell died peacefully at the age of 95 on September 13, 2019, in Belmont, MI. She was preceded in death by her husband of 64 years, Leland L. McDowell, her parents, and her five siblings.  Born in 1924 in Agra, KS, she lived her early years on a midwestern farm during the Great Depression, instilling values of humility, honesty, frugality, and self-sufficiency.  After she graduated from Agra High School, she spent several years teaching children from elementary through high school in a one-room school house in rural Kansas. In her early 20s, Wilma met her husband Leland while he was on leave from the U.S. Navy in the Pacific theater in World War II, and they married not too far from their childhood homes. Life together took them first to New York, where he finished his engineering studies, and then back to the Midwest, where their family grew to include sons Rodney, Keith, and David.  In early 1957 they moved to Bellevue, NE, which became "home" for nearly 60 years. Though they traveled widely in connection with Leland's job both in the U.S. and abroad, as well as on family trips, she was always eager to return home. Wilma lived her last several years in a retirement community in  Grand Rapids, MI.
Wilma was deeply loved by her family and friends for her abiding qualities of genuine warmth and quiet calm.  She had a lifelong connection with her neighborhood women's club, which met for monthly luncheons for more than five decades. She and Leland also enjoyed years in a bowling league with many of these same neighbors.  Never wanting to be at the center of attention, she was nevertheless the natural matriarch of the McDowell family, welcoming family with home-cooked meals, a clean and orderly house, and always time for just visiting. Her sons, their wives, her grandchildren, and great-grandchildren were guided by her quiet forms of humor, communication, and sincerity. In getting across her point, whether for advisement or levity, a subtle wink at precisely the right moment spoke volumes. Often, a delayed round of laughter followed.
Wilma had a strong talent for arts and crafts, including ceramics, crochet, embroidery, needlepoint, sewing, and oil landscapes of country roads, fields, streams, and mountain vistas. She embraced the interests of her husband and sons as well, including Huskers football. Even in her 90s, she would dress in red on gamedays and watch the game on TV. Her enthusiasm for card games, specifically six-point pitch, is an enduring legacy of family get-togethers, passed on as the family expanded, a kind of "rite of passage" for girlfriends, wives, and grandchildren.  A stickler for writing thoughtful thank-you notes, her penmanship at age 95 differed little from that of her younger days as a school teacher.
Wilma and Leland built their life together with a strong, abiding faith commitment. For many years they were active members of Southside Christian Church in Omaha, NE, and later, Bellevue Christian Church, in Bellevue, NE. Having always been a key contributor to church suppers and potlucks, Wilma will be overjoyed to enter another kind of heavenly banquet hall where she can sit and visit at the table with old friends and family, and maybe share a wink with a slice of apple pie a la Mode.
Wilma is survived by her 3 sons Rodney McDowell, Bellevue, NE, Keith (Alice) McDowell, Belmont , MI, and David (Kathy) McDowell, Lilburn, GA; 8 grandchildren; 8 great-grandchildren; and 1 great-great-grandchild.
Visitation: Sunday, Sept. 22nd, 3:30-5:30 p.m., at Bellevue Memorial Chapel.
Funeral Service: Monday, Sept. 23rd, 12:30 p.m., at Bellevue Memorial Chapel.
Interment: Bellevue Cemetery
Memorials to Bellevue Christian Church (Disciples of Christ), 2409 Jackson St., Bellevue, NE  68005.