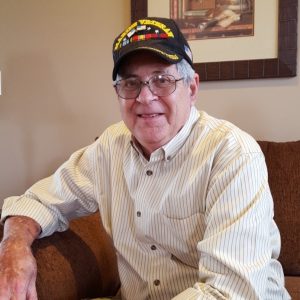 James LeRoy Weinberger
November 15, 1943 – August 1, 2022
Age 78
Jim was a Cpl in the U. S. Marine Corps and a veteran of the Vietnam War. He attended St. Leonard's Parochial School, Madison High School and Northeast Community College in Norfolk.   Jim was a member of the Veterans of Foreign Wars (VFW), the American Legion, and St. John the Evangelist Parish in Valley. He was an avid hunter and fisherman and enjoyed NASCAR.
Preceded in death by his parents Cletus and Darlene Weinberger; sister Sharon Landholm.
Survived by his wife Nancy L. Weinberger; children Troy Weinberger (Marcia Van Ness), Victoria Bartels, Kristi Jacobs (Jeff), Jerimy Weinberger (Christine), Jamie Fischer (Joshua); former wife and mother of his children Janel K. Weinberger; stepchildren Tammy Gibson (Kevin), and Tisha Sellin; 18 grandchildren; 15 great-grandchildren; sister Joan Ronnfeldt.
Visitation: Thursday, August 4, 5 – 7 p.m. with Vigil Service at 7:00 p.m. at St. Patrick's Catholic Church of Elkhorn.
To view video of the Vigil Service, click the link below:
https://boxcast.tv/view/james-leroy-weinberger-irvtxhrfwwbgvptqqqka
Mass of Christian Burial:  Friday, August 5, 10:30 a.m., St. Patrick's Catholic Church of Elkhorn, 20500 West Maple Road.
To view video of the Mass, click the link below:
https://boxcast.tv/view/james-leroy-weinberger-sizjklxlbuomlfse1yf0
Interment:  Bellevue Cemetery
Military Honors:  U. S. Marine Corps Honor Guard and American Legion
Memorials: St. Jude's Children's Research Hospital / www.stjude.org., Shriners Hospital for Children / www.lovetotherescue.org or St. Joseph's Indian School, Chamberlain, S. D. / www.give.stjo.org